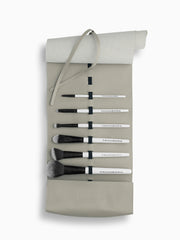 online exclusive
August Sandgren Makeup Clutch Grey
August Sandgren x Tromborg Makeup Clutch – unique handcrafted design in an exclusive collaboration between August Sandgren and Tromborg. Includes Tromborg's 7 Vegan Brushes. Limited edition.
1-4 days delivery.
Free Tromborg Treats from EUR 69.00
An innovative & sustainable storage solution made from durable leather. This beautiful, handcrafted Makeup Clutch is the perfect way to safely storage your brushes and makeup favourites.