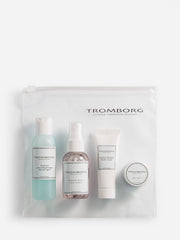 Travel size
Flight Kit
Travel Kit contains Deluxe Purification Hand Gel, a Facial Mist Rose Water, a Lip Cure and a Hand Cream.
1-4 days delivery.
Free Tromborg Treats from EUR 69.00
The Travel Kit make it easy to bring all your must-haves with you on vacation and will also fit into your hand luggage on a flight. Perfect for avoiding moisture loss on your journey.
LIP CARE
Remember to care for your lips when you are travelling. We recommend the healing Lip Cure, which counteracts dry and chapped lips our nourishing Lip Balm, which also adds the most beautiful shine to the lips.