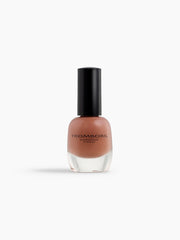 Nail Polish
Nail Polish #5 is a protective polish that gives you gorgeous nails. It leaves your nails looking beautiful, smooth and shiny. Get a neat and long-lasting finish every time. Nail Polish #5 is an exquisite, creamy rose-beige shade for a natural and glossy look.
1-4 days delivery.
Free Tromborg Treats from EUR 69.00
Tromborg's unique nail polish formula gives you a 3-in-1 base coat, colour and top coat all in one product.