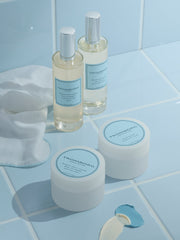 Online Exclusive
Oily Skin
Biomolecular Messenger Cleansing Gel + Biomolecular Destress Peptide Mist + Deluxe Face Cream Day & Night Moisturizer + Mud Mask Mineral-Rich. The set contains 260€ worth of products.
1-4 days delivery.
Free Tromborg Treats from EUR 69.00
The Oily Skin Set is perfect for regulating oily skin. Consisting of just a few simple products, this collection makes it easy to maintain a good routine for perfectly balanced skin.