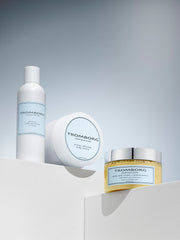 Online Exclusive
Summer Prep
Prep Summer Set consists of Aroma Therapy Body Lotion + Deluxe Self Tanning Cream + Body Salt Scrub Lemongrass. The set contains 166€ worth of product.
1-4 days delivery.
Free Tromborg Treats from EUR 69.00
Summer Prep Set contains three products that combined provide optimal moisture, exfoliate and soften while giving your skin a natural & irresistible summer glow.