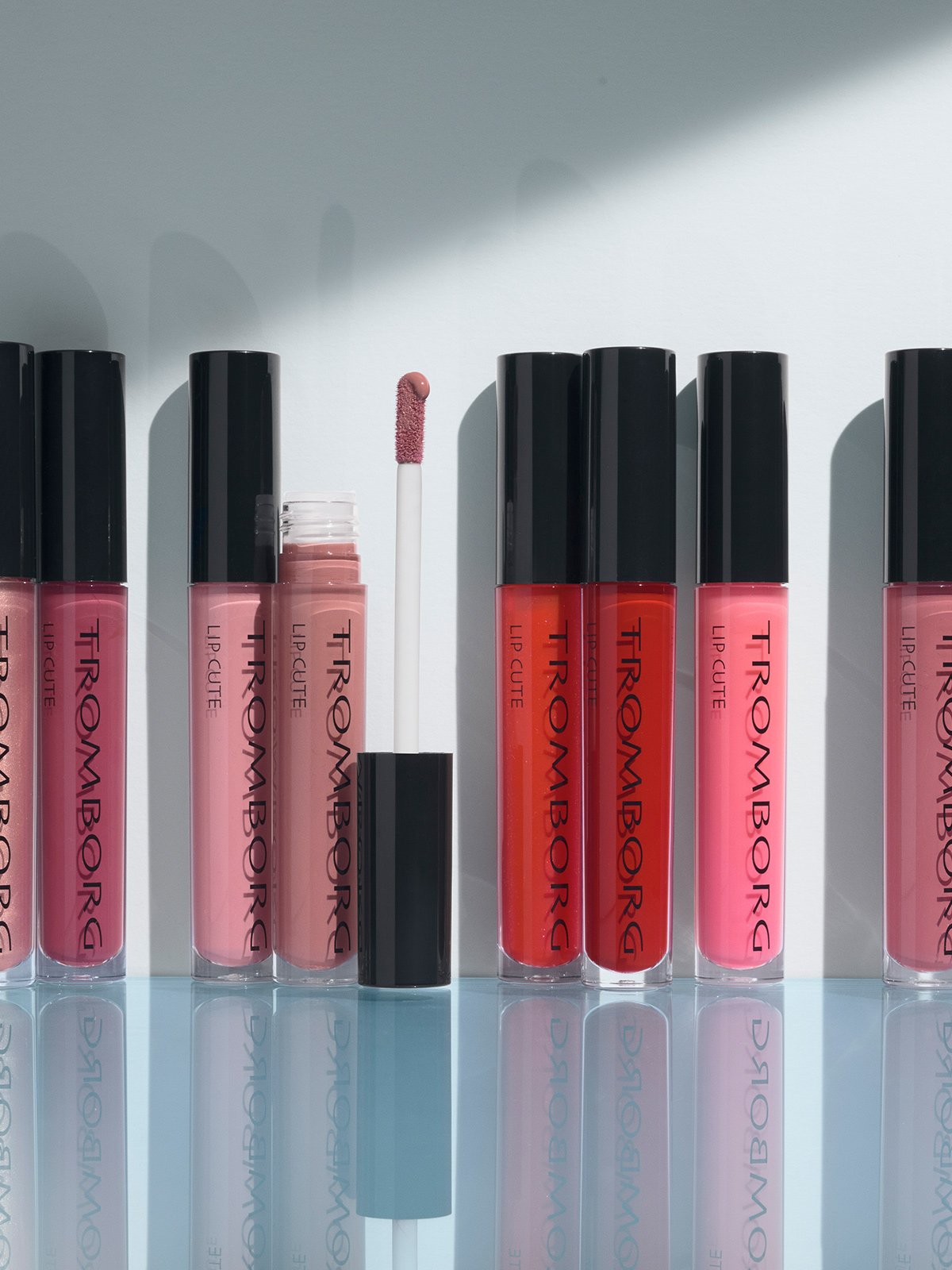 LIP GLOSS
---
---
Tromborg's Lip Cute gives you the perfect glossy finish without feeling sticky – comes in 10 different shades/textures, including everything from a semi-transparent finish to the most magical and lasting shine.
Lip Cute contains several different organic plant extracts/oils – all of which serve to soften, nourish and deeply moisturize your lips.
– Aloe vera binds moisture to the skin so that your lips feel less dry. It has an anti-inflammatory effect and helps prevent irritation. Aloe vera also adds antioxidants that combat damage and reduce wrinkles.
– Castor oil from the castor bean, the main active substance of which is ricinoleic acid, also contributes to impressive anti-inflammatory effects. In addition, castor oil in Lip Cute repairs cracked lips by providing a huge amount of moisture – the ultimate warrior against dry lips during the winter months. The oil also contains vitamin E as well as other antioxidants and minerals, all contributing to the overall health and vitality of your lips.
– Cold-pressed jojoba oil deeply moisturizes, soothes and softens your lips. The nutrients in jojoba oil – including vitamins E and B, antioxidants and minerals such as chrome, copper and zinc – nourish and protect your lips and give them a healthy glow.
– The finest, mildest almond oil in Lip Cute results in smoother and more supple lips. Natural vitamins and antioxidants in almond oil protect lips from oxidative stress and UV damage. At the same time, the inclusion of proteins and amino acids required to produce collagen helps strengthen the elasticity and softness of your lips.
– Calcium, iron, magnesium, zinc and vitamins A, K and E from sunflower oil help maintain your lips' natural health. Your lips will appear softer, thoroughly moisturized and well hydrated. The oil prevents damage to skin cells caused by exposure to UV radiation and prevents premature aging of the skin on your lips by protecting collagen and elastin levels. Omega 6 (linoleic acid), which is found naturally in sunflower oil, helps with regeneration and renewal of skin cells.
– Avocado oil in Lip Cute helps maintain moisture balance as well as strengthen and preserve the protective skin barrier. Beta-sitosterol from the avocado oil (a phytosterol) soothes the skin on your lips and, combined with alpha- and beta-carotene (provitamin A components), encourages collagen production and growth. The oil nourishes and deeply moisturizes, while effectuating its invigorating and healing properties.
Start with Lip Cure and finish with Lip Cute and long-lasting moisture is assured – although you can also use it alone of course. Incredibly easy to apply for a beautiful and elegant finish.