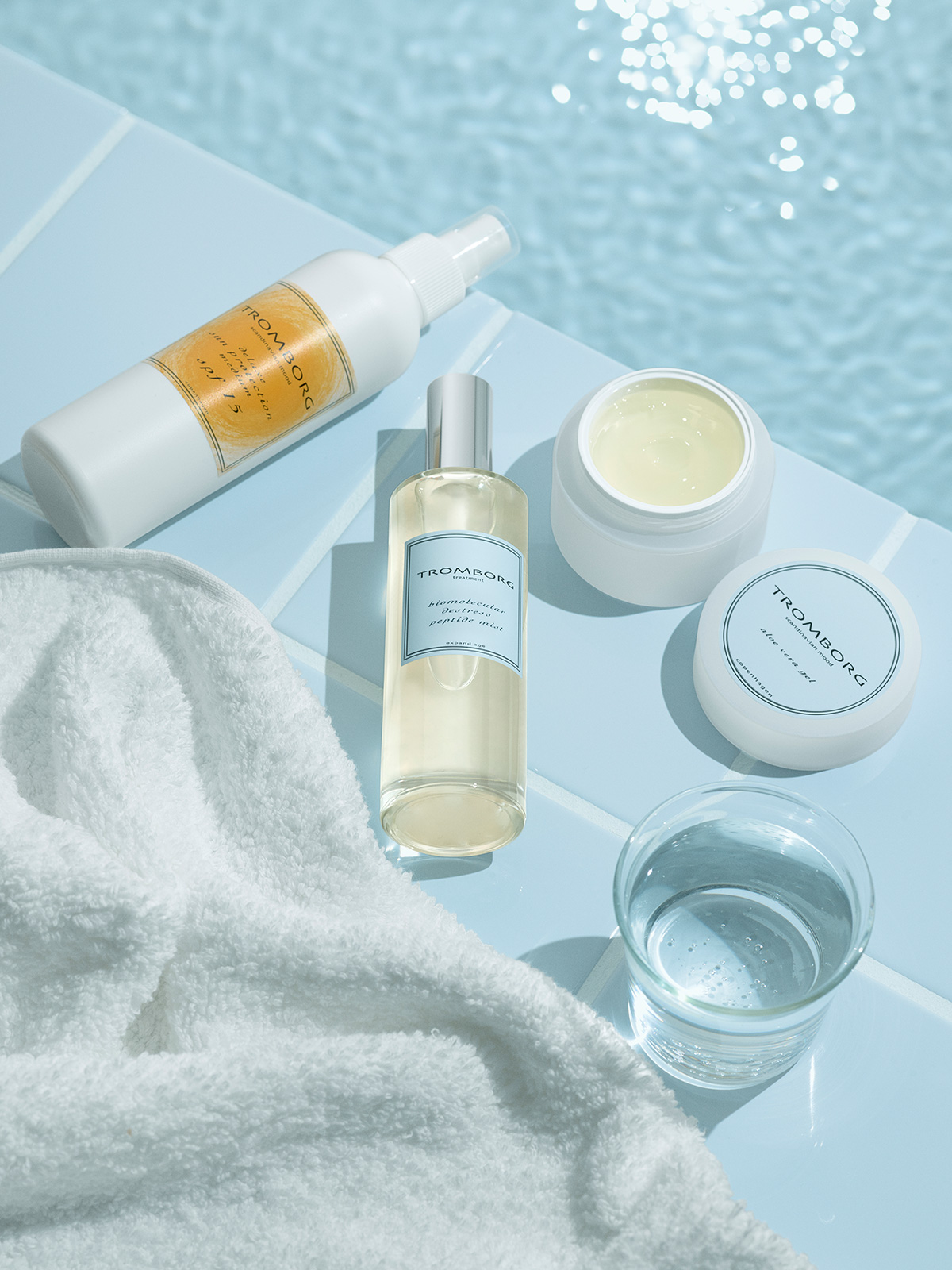 SUNCARE
---
---
The sun is one of our skin's biggest enemies. This is true regardless of whether you burn or not. The fact is, being in the sun and exposing our skin to UV light is harmful and causes premature aging. We should therefore always use sunscreen to protect our skin when venturing out into the sun.
Tromborg's sunscreens are mild and suitable for delicate skin. They are packed with organic ingredients and plenty of antioxidants that combat free radicals and prevent wrinkles. They contain UV filters that effectively protect against the sun's UVA and UVB rays. All Tromborg's sunscreens are suitable for direct sunlight and daily use outdoors, although it's always best to avoid direct sunlight between 11 am and 3 pm. At Tromborg, we offer the following sunscreens:
Deluxe Sun Protection Medium SPF 15 & Deluxe Sun Protection High SPF 30: Velvety soft and healthy skin in the sun. Brimming with organic ingredients, Deluxe Sun Protection SPF 15 and Deluxe Sun Protection SPF 30, for both face and body, are healing, moisturizing and nourishing sunscreens. If you're striving for a golden glow, you will achieve better and longer-lasting results by slowly building up your tan using a high factor than by allowing your skin to burn.
Deluxe Face Sun Protection SPF 20: Tromborg's face sunscreen contains the same gorgeous organic ingredients as our regular sunscreens – including kukui nut oil, pomegranate, aloe vera and glycerine for their healing, moisturizing and nourishing effects. Added to the list for this sunscreen are additional ingredients that repair skin cells and prevent damage.
Before spending a day in the sun, it's important to prepare and protect the skin on your face and body. We therefore recommend that you apply our Sun Primer DNA Protection Cream to your skin. This cream is enriched with 20 natural ingredients that protect our DNA against damage caused by UV radiation-induced free radicals.
For the perfect aftersun treatment, Tromborg offers healing Aloe Vera Gel, which is incredibly soothing and deeply moisturizes your skin after a long day in the sun. We recommend using Aloe Vera Gel together with Facial Mist Calendula Water, as combining these two products provides optimal aftersun care. Both products are good for delicate and sensitive skin and for both body and face.
Finally, we also have the perfect solution for those who prefer to avoid the sun, but still want a natural glow: Deluxe Self Tanning Cream. This wonderous product gives your skin a natural, sumptuous summer glow that's simply irresistible.