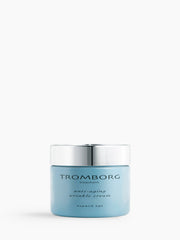 Bestseller
Anti-Aging Wrinkle Cream
35 active ingredients and 6 different peptides speak for themselves – this is the ultimate luxury for your skin! Pioneering biotechnological innovation combined with nature's own wonders are the substance of this cream – and the source of instant visible results and an ultimate moisture boost.
1-4 days delivery.
Free Tromborg Treats from EUR 69.00
Anti-Aging Wrinkle Cream contains the latest effective peptides, anti-aging plant extracts and wrinkle-reducing properties. This special blend of ingredients is incredibly effective.