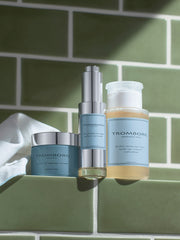 Online Exclusive
Anti-Irritation & Redness
Herbal Cleansing Water Pump + Below 10 Degrees Cream + Moisturizing Glow Serum. The set contains 267€ worth of products.
1-4 days delivery.
Free Tromborg Treats from EUR 69.00
Our Anti-Irritation & Redness Set is perfect for soothing and calming irritated skin and rosacea-like conditions. This special combo moisturizes, soothes and reduces visible signs of irritation.