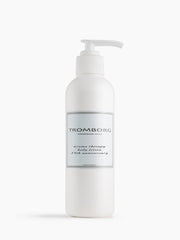 Aroma Therapy Body Lotion 15th Anniversary
With the launch of our 15th anniversary scent, you can now get Tromborg's magical moisturizer in pump form. It still feels like whipped cream and velvet for your body and soul – now with our popular scent that includes mandarin and mint.
1-4 days delivery.
Free Tromborg Treats from EUR 69.00
The olus oil and shea butter, both rich in triglycerides, serve to soften and smooth your skin. Aloe vera alleviates skin irritation and sun damage, moisturizes and reduces signs of aging. The excellent properties of several other oils have also won them a place in Tromborg's Body Lotion.