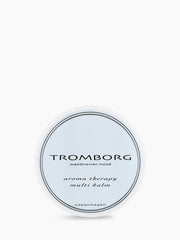 Aroma Therapy Multi Balm
Nourishing and protective multi-use product replete with the dreamiest organic plant and herb extracts. Pure therapy for the soul. Multi Balm is a powerful and exceptionally nourishing moisturizer for all-over use: your face, lips, body and nails – the list is endless.
2-8 days delivery.
Free Tromborg Treats from EUR 69.00
Multi Balm is enriched with shea butter, sunflower oil, wild carrot, aloe vera, rosemary, e-vitamin and glycerin. Look forward to soft, soft skin with an exquisite glow.