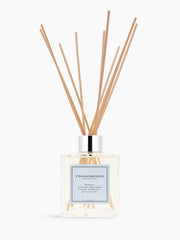 Aroma Therapy Room Diffuser Geranium
Treat your senses to Deluxe Aroma Therapy Room Diffuser Geranium. Aromatic depth and complexity that brings wellbeing and freshness to any room. Contains the loveliest notes of geranium, grapefruit and vanilla.
1-4 days delivery.
Free Tromborg Treats from EUR 69.00
The result is a floral and elegant scent that, with refined ease, creates a seductive and sentient universe. Ideal for the kitchen, bathroom and other rooms that always benefit from a little fresh fragrance. Can also be used in hotel rooms, offices, bars, restaurants, fitness centres, sports halls, hairdressers, beauty salons etc. 200ml.