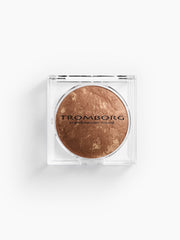 Bestseller
Baked Mineral
Baked Mineral Bronze is a luxurious, super-versatile product that – with its intense colour and silky texture – is designed to enhance and warm any skin tone. The perfect bronzing and contouring powder, Bronze sculpts your face beautifully and gives you the most irresistible glow.
2-8 days delivery.
Free Tromborg Treats from EUR 69.00
The minerals are carefully and finely milled to achieve the highest quality and the best results. The ultra-fine shimmering pigments frame and accentuate your face – or wherever else you may wish to add a touch of chic glow and radiance.
Autumn look
Our golden autumn look with brown, burnt colors for natural highlighting and a magical radiance.