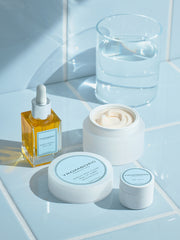 Online Exclusive
Basic Moisturizer
Day & Night Moisturizer + Anti-Stress Face Oil + Lip Cure. The set contains 168€ worth of products.
1-4 days delivery.
Free Tromborg Treats from EUR 69.00
The three products give your skin an instant glow and provide a balanced amount of moisture to secure healthy and vital skin. A set that can be used all year round in combination with a cleanser.