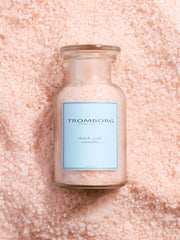 Bath Salt Vanilla
Coarse bath salt from the Dead Sea packed with minerals – there is nothing better. Bath Salt Vanilla is stimulating and harmonizing and promotes inner peace and wellbeing – sheer nourishment for body and soul.
1-4 days delivery.
Free Tromborg Treats from EUR 69.00
You very own at-home luxury spa experience in a sleek glass bottle that looks beautiful by the bathtub or on a shelf in the bathroom.