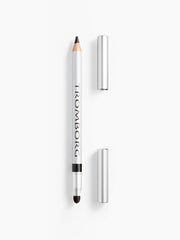 Deluxe Eyeliner
Eyeliner Deluxe 1 Black is the most extravagant eye makeup essential. Its gorgeous texture makes it super easy to apply and provides a perfectly smooth line. Eyeliner Deluxe 1 Black is an intense black colour that perfectly frames and accentuates your eyes.
1-4 days delivery.
Free Tromborg Treats from EUR 69.00
Eyeliner Deluxe 1 Black also comes with a built-in sponge tip, making it a breeze to create a sexy smokey eye look. In short, this luxurious eyeliner is perfect for both that classic, timeless style and to create a softer look by smudging out the colour. Magical – and still natural!