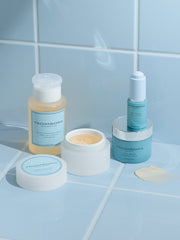 Online Exclusive
Dryness & Moisture Loss
Herbal Cleansing Water Pump + Anti-Aging Wrinkle Cream + Anti-Aging Glow Serum + Multi Vitamin Facial Mask. The set contains 329€ worth of products.
1-4 days delivery.
Free Tromborg Treats from EUR 69.00
Ideal for an easy and simple routine, the Dryness & Moisture Loss Set provides much-needed moisture and leaves your skin glowing. – and it's perfect for all ages and skin types.