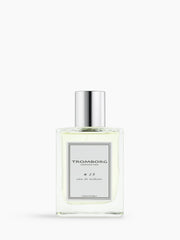 Eau De Toilette #13
A unisex perfume based on essential oils. Quantum Vibrations Aroma Therapy is the recipe for Tromborg's new fragrance # 13. Here we are not talking about notes, but about molecular vibrations. Good scents start with good vibrations.
1-4 days delivery.
Free Tromborg Treats from EUR 69.00
The combination of molecules with the right vibrations creates fantastic fragrance. That's the essence of Tromborg's Eau De Toilette - # 13. Good vibes! EDT # 13 is a direct offshoot of our popular Roomspray # 13 with molecular vibrations from verbena, grape, orange, mandarin and a touch of rosemary and vanilla.