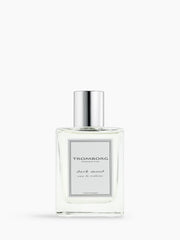 Eau De Toilette Dark Mood
A unisex fragrance made from pure essential oils. Grapefruit with an undertone of patchouli. Sentimental and creative. Grapefruit is stimulating and revitalising. Patchouli adds hypnotic aphrodisiac properties that empower your body and senses.
1-4 days delivery.
Free Tromborg Treats from EUR 69.00
Patchouli is a dark and obscure contrast to the fresh grapefruit – making Dark Mood a stimulating, mystical and extravagant scent.