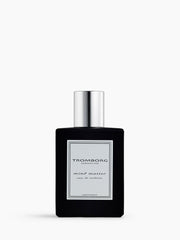 Eau De Toilette Mind Matter
Smell the Beauty of Science. Born of the natural sciences, our Mind Matter fragrance unfolds and comes to life through our senses.
1-4 days delivery.
Free Tromborg Treats from EUR 69.00
Vanilla and patchouli are among the sensory impressions that greet you. They evoke a sense of wellbeing, attraction and energy when sensed by the brain and transformed into matter. Mind Matter has a slightly more masculine undertone than New Matter, despite containing the same notes.