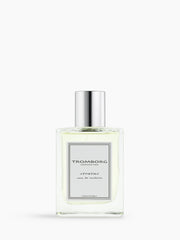 Eau De Toilette Stratus
A unisex fragrance made from pure essential oils. Named after the beautiful clouds of the Far North. Stratus has the same notes as Tromborg's Aroma Therapy Body Lotion – namely verbena, bitter orange, rosewood, patchouli and vanilla. Think the quintessential Scandinavian spa experience.
1-4 days delivery.
Free Tromborg Treats from EUR 69.00
Resembling flat white sheets of cloud, Stratus clouds sometimes cover the sky and fill the air with the sweet smell of rain. Clouds have inspired art and literature throughout history. Their scale and grandeur stir the imagination. We associate clouds with dreams and happiness. Their majestic formations also symbolise all things poetic, imposing, mysterious and wonderful.