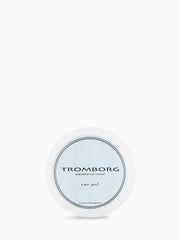 Eye Gel
Eyes are usually the first thing we notice about each other, which is why we are justified in paying special attention to the skin around our eyes. Tromborg Eye Gel moisturizes and cools while also lifting and smoothing fine lines.
1-4 days delivery.
Free Tromborg Treats from EUR 69.00
If you are feeling tired, stressed, sleep-deprived or tense, your eyes will be the first to show it. Fatigue and stress also contribute to solidifying the small fine lines around your eyes into permanent wrinkles.