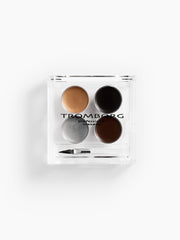 Eyegrease
A must-have makeup essential, Eyegrease works wonders as an eyeliner – whether used in the classic way or applied to the waterline. It's brilliant for smokey eyes or applied to your entire lid for a great party look.
1-4 days delivery.
Free Tromborg Treats from EUR 69.00
Eyegrease comes in a palette of 4 beautiful shades to play with.