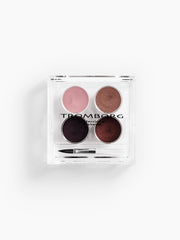 Eyegrease
Eyegrease Thunder melts seamlessly onto the lid and adds the most beautiful shine. Eyegrease Thunder is a palette of 4 brown and plum shades – ideal for your natural daytime makeup or to create a stunning party look.
2-8 days delivery.
Free Tromborg Treats from EUR 69.00
Use alone for a pretty, dewy look or combine it with one of our classic eyeshadows – great for setting the Eyegrease for long-lasting wear. Eyegrease Thunder can also be used as eyeliner. Its deliciously creamy texture makes it easy to work with and blend, using either our vegan brushes or your fingers.