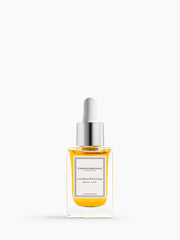 Face Oil Stimulating
Tromborg's Stimulating Face Oil is a blend of cold-pressed organic oils and the most amazing essential oils – the life force of plants. This base of magical oils works synergistically to neutralize irritation, calm and clarify your skin to produce the most beautiful and radiant results.
1-4 days delivery.
Free Tromborg Treats from EUR 69.00
Essential oils from grapefruit, vanilla, rosemary, lemongrass and lemon balm are invigorating, stimulating and performance-enhancing. An essential oil with aromatic compounds extracted from a beautiful plant has many positive effects, also for our skin. In other words: this is not just another oil.