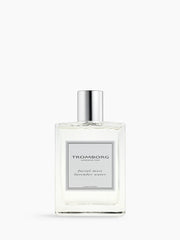 Facial Mist Lavender Water
With its cooling and calming effects, Lavender Water is the ideal antidote to tension during the day. A few sprays are sufficient to give your skin renewed energy.
1-4 days delivery.
Free Tromborg Treats from EUR 69.00
Lavender Water is extracted from organically grown lavender, and, like all Tromborg facial mists, is an ideal toner. Lavender is well-known for its antiseptic, cooling and rejuvenating qualities. Treasured as a panacea since antiquity, this special herb also restores balance in all the systems of the body. Lavender is calming, soothing and tension-relieving.
Mist is a must
Give the skin an instant boost of freshness. Facial mist refreshes the skin during the day and leaves the skin fresh, moisturized and tightened. Find the one that suits your mood and your senses.