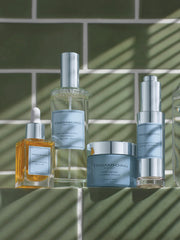 ONLINE EXCLUSIVE
Get the Glow
Biomolecular Destress Peptide Mist + Anti-Aging Glow Serum + Anti-Aging Wrinkle Cream + Face Oil Anti-Stress. The set contains 419€ worth of products.
2-8 days delivery.
Free Tromborg Treats from EUR 69.00
The Tromborg Glow Set is an optimal, refreshing instant boost that restores your skin's radiance, leaving it visibly firmer and revitalised.