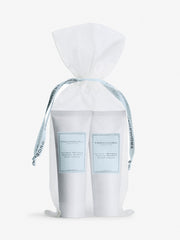 Hand & Foot Cream Christmas Set
The set contains Aroma Therapy Deluxe Herbal Hand Cream (75 ml) + Aroma Therapy Deluxe Herbal Foot Cream (75 ml). Value: 53 EUR.
2-8 days delivery.
Free Tromborg Treats from EUR 69.00
Aromatherapeutic self-care for your hands & feet with amazing, softening benefits. 2 Nourishing and moisturizing creams packed with organic & active ingredients that will heal, repair and soothe the skin on your hands & feet.