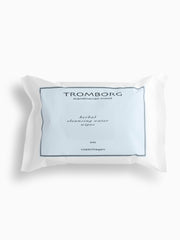 NEW IN
Herbal Cleansing Water Wipes
Soft cleansing wipes made from Tromborg's gentle oil-and alcohol-free Herbal Cleansing Water. A simple and effective solution for you to take good care of your skin – even when you're out and about.
1-4 days delivery.
Free Tromborg Treats from EUR 69.00
Supplement your daily cleansing routine with Herbal Cleansing Water Wipes that carefully removes makeup, pollutants, dead skin cells and toxins.