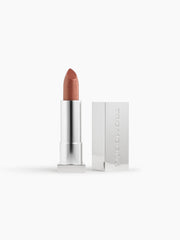 Lipstick
Hoshi means star in Japanese and has a golden transparent nuance with a shimmer effect. A truly modern lipstick which will never feel dry, easily smooths over the lips and feels as soft as silk.
1-4 days delivery.
Free Tromborg Treats from EUR 69.00
Lipstick Hoshi contains organic and natural ingredients. Organic oils from Macadamia Nut, Sesame and Lady Campbell Camellia provide optimal moisture and nourishment for the lips. Hoshi has an extreme colour quality for a flawless result every time.