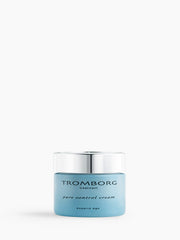 Pure Control Cream
Pure Control Cream is an effective treatment for problematic skin, including acne. Thanks to the moisturizing and emollient effects of its natural plant extracts, it makes your skin look amazing and feel silky soft.
1-4 days delivery.
Free Tromborg Treats from EUR 69.00
A unique blend of natural plant extracts effectively regulates and normalises the secretion of sebum – a key source of impurities. The plant extracts inhibit the enzyme that causes excessive sebum production, making the cream an effective treatment of acne and other skin conditions.