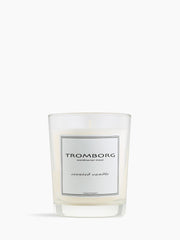 Scented Candle Cognac
Tromborg's scented candles are an everyday luxury, infused with the most wonderful scents. Cognac smells of vanilla and chocolate beans with a hint of decadence and Chesterfield furniture in a room lined with books. It fills any room with a delicate, sophisticated fragrance.
1-4 days delivery.
Free Tromborg Treats from EUR 69.00
When you enter a room with a burning Tromborg scented candle, it tells a little story. You can create just about any mood with one or more of Tromborg's heavenly and luxurious scented candles.
Home spa
Treat yourself to your daily routine with Tromborg's spa products. Light a scented candle or get renewed energy in a relaxing bath with carefully selected essential oils.