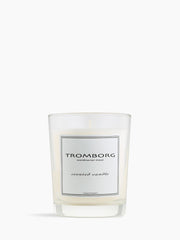 Scented Candle Silence
Tromborg's scented candles are an everyday luxury, infused with the most wonderful scents. Silence is a fusion of fabulous fruit tree flowers. It fills any room with a delicate, sophisticated fragrance.
1-4 days delivery.
Free Tromborg Treats from EUR 69.00
When you enter a room with a burning Tromborg scented candle, it tells a little story. You can create just about any mood with one or more of Tromborg's heavenly and luxurious scented candles. Each scent has its own identity – inviting and luxurious.
Home spa
Treat yourself to your daily routine with Tromborg's spa products. Light a scented candle or get renewed energy in a relaxing bath with carefully selected essential oils.