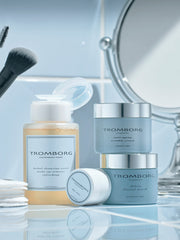 Online Exclusive
Sensitive Skin
Herbal Cleansing Water Pump + Anti-Aging Wrinkle Cream + Detox Facial Mask + Lip Cure. The set contains 293€ worth of products.
2-8 days delivery.
Free Tromborg Treats from EUR 69.00
Our Sensitive Skin Set is an effective treatment that boosts the skin barrier and makes it more resistant. Your skin is moisturized and sensitivity is reduced.