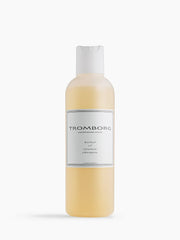 Shampoo Herbal & Vitamin
A wonderfully mild and gentle shampoo, Herbal & Vitamin Shampoo will not irritate your scalp in any way. This is critical for the hair structure, since your hair absorbs nourishment through the blood supply in your scalp.
1-4 days delivery.
Free Tromborg Treats from EUR 69.00
This shampoo is suitable for everyone and works wonders for those with delicate hair and scalp.