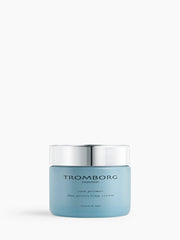 Sun Primer DNA Protection Cream
This ultimate sun primer enriched with 20 natural active ingredients, including antioxidants that neutralise the negative effects of free radicals caused by UV radiation, environmental factors and stress.
1-4 days delivery.
Free Tromborg Treats from EUR 69.00
Ingredients protect skin cells against DNA damage. The main ingredient stems from pure extract of a special watermelon that grows under extreme conditions in the Kalahari Desert on the southern fringe of the Sahara.
SUN CARE ESSENTIALS
The sun is one of our skin's biggest enemies. This is true regardless of whether you burn or not, since our skin to UV light is harmful and causes premature aging. Therefore, it's essential to always use sunscreen to protect your skin when venturing out into the sun.