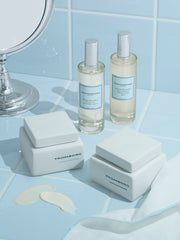 Online Exclusive
Super Anti-aging
Biomolecular Messenger Cleansing Gel + Biomolecular Destress Peptide Mist + Anti-Aging Molecular Messenger Cream + Enrichment Leave on Mask. The set contains 799€ worth of products.
1-4 days delivery.
Free Tromborg Treats from EUR 69.00
Our Super Anti-Aging Set is the ultimate moisturising collection – packed with an incredible 11 potent peptides and an arsenal of active ingredients that are clinically proven to effectively prevent wrinkles from forming and visibly reduce existing fine lines and wrinkles.