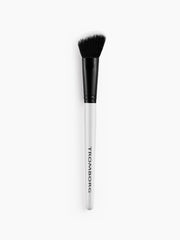 Vegan Brush #6
Brush #6 is made of the finest synthetic bristles for an effortless, precise application. The silky soft, angled brush makes it ideal for contouring and applying blush and highlighter. It's never been easier to get a flawless finish – every time.
1-4 days delivery.
Free Tromborg Treats from EUR 69.00
Developed on the basis of Marianne Tromborg's many years of experience as a makeup artist, Tromborg's brushes are top quality and vegan. Quality products and high-calibre accessories are the alpha and omega of beautiful makeup.
Vegan Brushes
Explore all our vegan brushes - it has never been easier to get a great result.