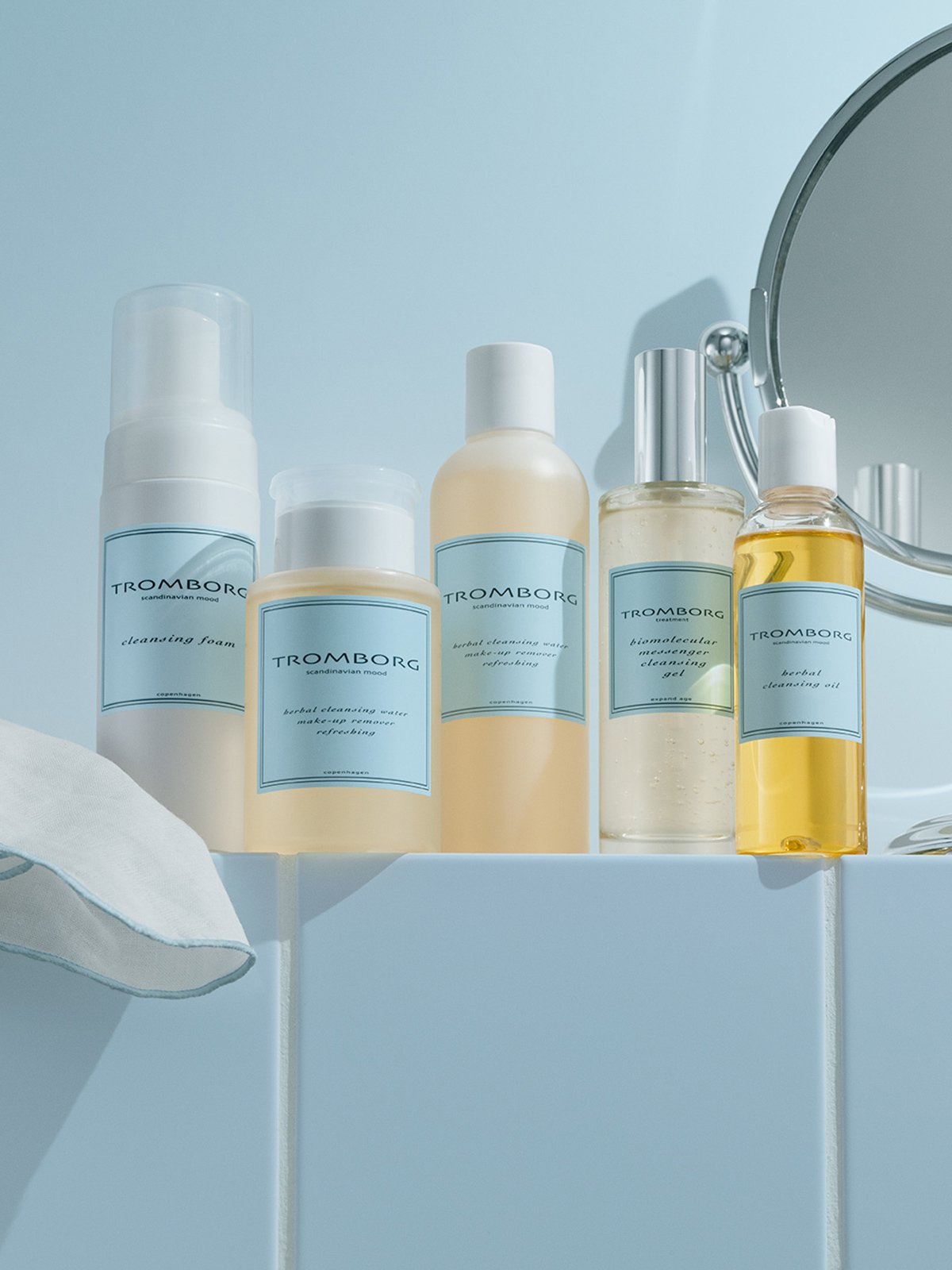 CLEANSERS & MAKEUP REMOVER
---
---
DISCOVER THE PERFECT CLEANSER
Healthy and beautiful skin begins with a good skincare routine. One of the steps you should never skip is to cleanse your skin every morning and evening. Clean skin is the best foundation for enabling your subsequent skincare products to effectively penetrate your skin and deliver optimal results. Equally, clean skin is the perfect base for achieving beautiful makeup.
All our cleansing products work in-depth, do not cause your skin to dry out, moisturize and suit all skin types – including delicate, oily and sensitive skin. Your choice depends on your personal preference and which consistency feels best on your skin. You will find four fantastic cleansing products in the Tromborg range: Herbal Cleansing Water, Cleansing Foam, Herbal Cleansing Oil and Biomolecular Messenger Cleansing Gel.
A good face cleanser effectively removes impurities, makeup and dead skin cells without clogging pores. Be aware that it may not be a good idea to use regular soap, as this may increase the sebum production and thereby cause impurities. It is extremely important to cleanse your skin before you go to bed, especially if you use makeup which needs to be removed thoroughly.
We are often asked whether it's possible to mix and match our face cleansers. The answer is yes – you can use them on their own or combine them as you like. A smart trick is to cleanse your face in the bath or shower using Cleansing Foam – your face will be wet and the foaming cleanser is easily removed. Before bedtime, however, Herbal Cleansing Water is the perfect solution for many of us, since a splash on a cotton pad is all you need to cleanse your skin and prepare for your night cream. In short, you can mix and match your cleansing routine as you wish – just don't forget to do it!