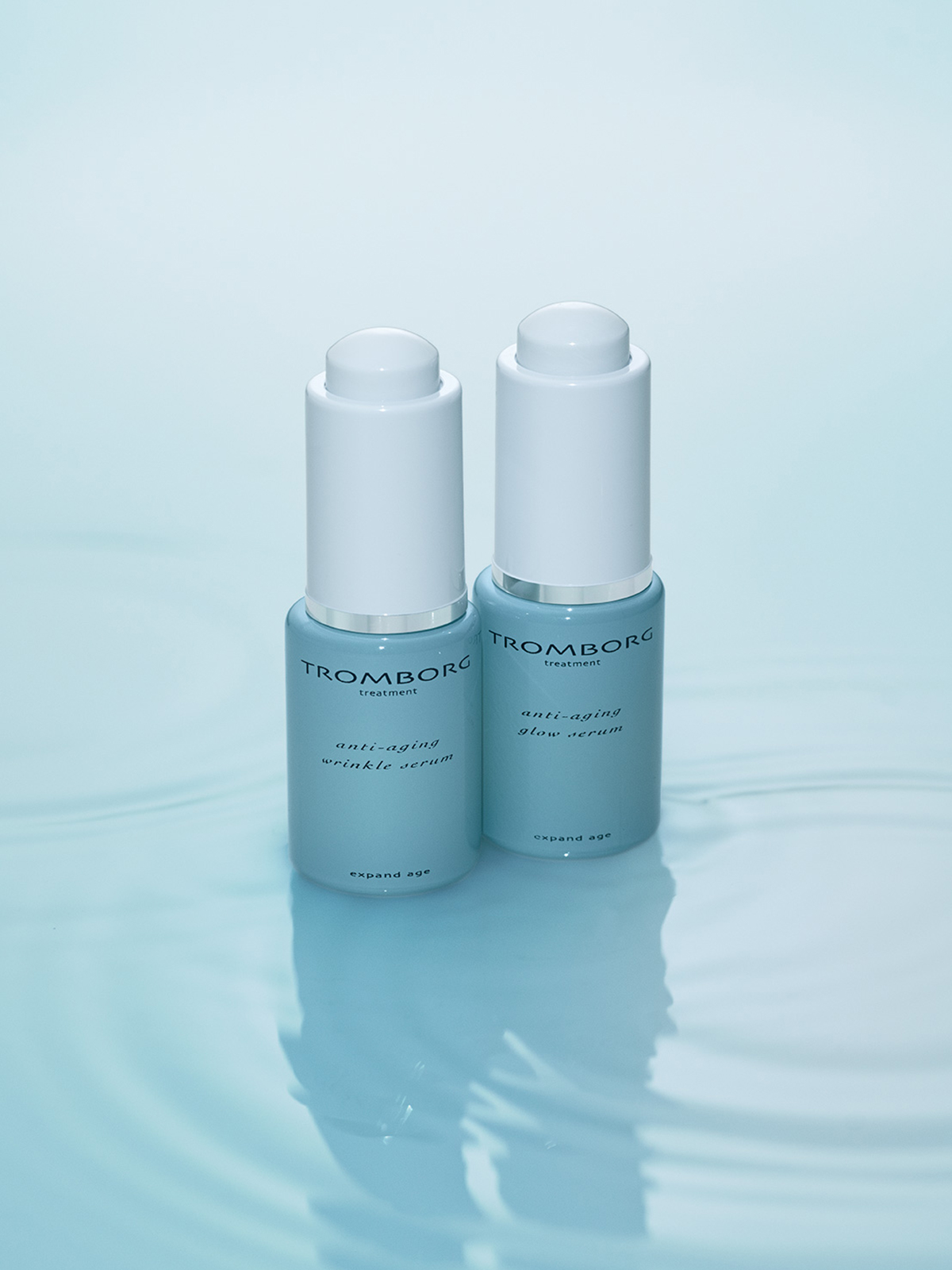 SERUM
---
---
With their innovative, scientifically proven ingredients, Tromborg's serums are designed to instantly improve your skin's texture. Whether your skin needs long-lasting moisture, the ultimate anti-aging effect, or a treatment to soothe irritation, Anti-Aging Glow Serum and Wrinkle Serum are both great choices. The super valuable droplets are instant boosters to improve skin function for a beautiful, smooth and radiant skin.
Anti-Aging Glow Serum contains passionfruit and passionflower extracts that soften and relax the skin – radiating health and vitality. Special antioxidants tighten the skin as fine lines and wrinkles are erased. Wheat germ oil has also been added for its rich concentrations of proteins, minerals and vitamins, especially vitamin E. Microalgae further re-energises the skin and protects its cells' energy centres. Your skin becomes more radiant at its natural appearance improves. Anti-Aging Glow Serum is thus the ultimate booster treatment for your skin to reclaim its glow.
Anti-Aging Wrinkle Serum consists of a highly concentrated blend of a brand-new generation of peptides that actively reduce wrinkles and, after just a few minutes, leave your skin visibly smoother. The peptide complex comprises six different peptides that activate the connective tissue in the epidermis and subcutaneous layer of the skin. The complex also reacts with key proteins in the skin to improve its structure, giving it a more youthful appearance – providing an amazing anti-aging effect. The formula is further enriched with macadamia, another active ingredient and one of nature's miracle workers – packed with palmitoyl, omega 3 and omega 6 fatty acids that stimulate the skin's defence mechanisms and rejuvenation process. We have also added hyaluronic acid to deliver instant moisture and avoid the formation of wrinkles due to dehydration.