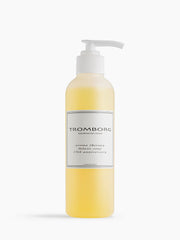 Aroma Therapy Deluxe Soap 15th Anniversary
Deliciously scented hand soap containing the most exquisite organic mandarin, verbena (jernurt) and mint aromatherapy oils. Softens, moisturizes and nourishes your hands. A touch of luxury you can feel – in the form of our special anniversary edition.
1-4 days delivery.
Free Tromborg Treats from EUR 69.00
Marianne Tromborg is the nose behind the scents in Tromborg's products. She draws her inspiration from the amazing natural environments of the Nordic countries. When Tromborg turned 15 in 2018, we celebrated the milestone with a special anniversary edition of our popular hand soap, which was one of the first products we launched.