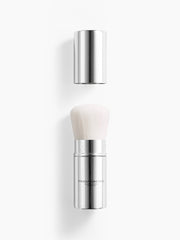 Deluxe Retractable Kabuki Brush
Deluxe Retractable Kabuki Brush is an organic and vegan compact brush for applying powder, highlighter, bronzer and blush. The perfect accessory for your bag thanks to its retractable design. Makes it easy to touch up your makeup during the day. Ideal for our Mineral Foundation, Pressed Powder, Blush and Baked Minerals.
1-4 days delivery.
Free Tromborg Treats from EUR 69.00
Quality products and high-calibre accessories are the alpha and omega of beautiful makeup. It's never been easier to get a flawless finish – every time. Developed on the basis of Marianne Tromborg's many years of experience as a makeup artist, Tromborg's brushes are top quality and vegan.