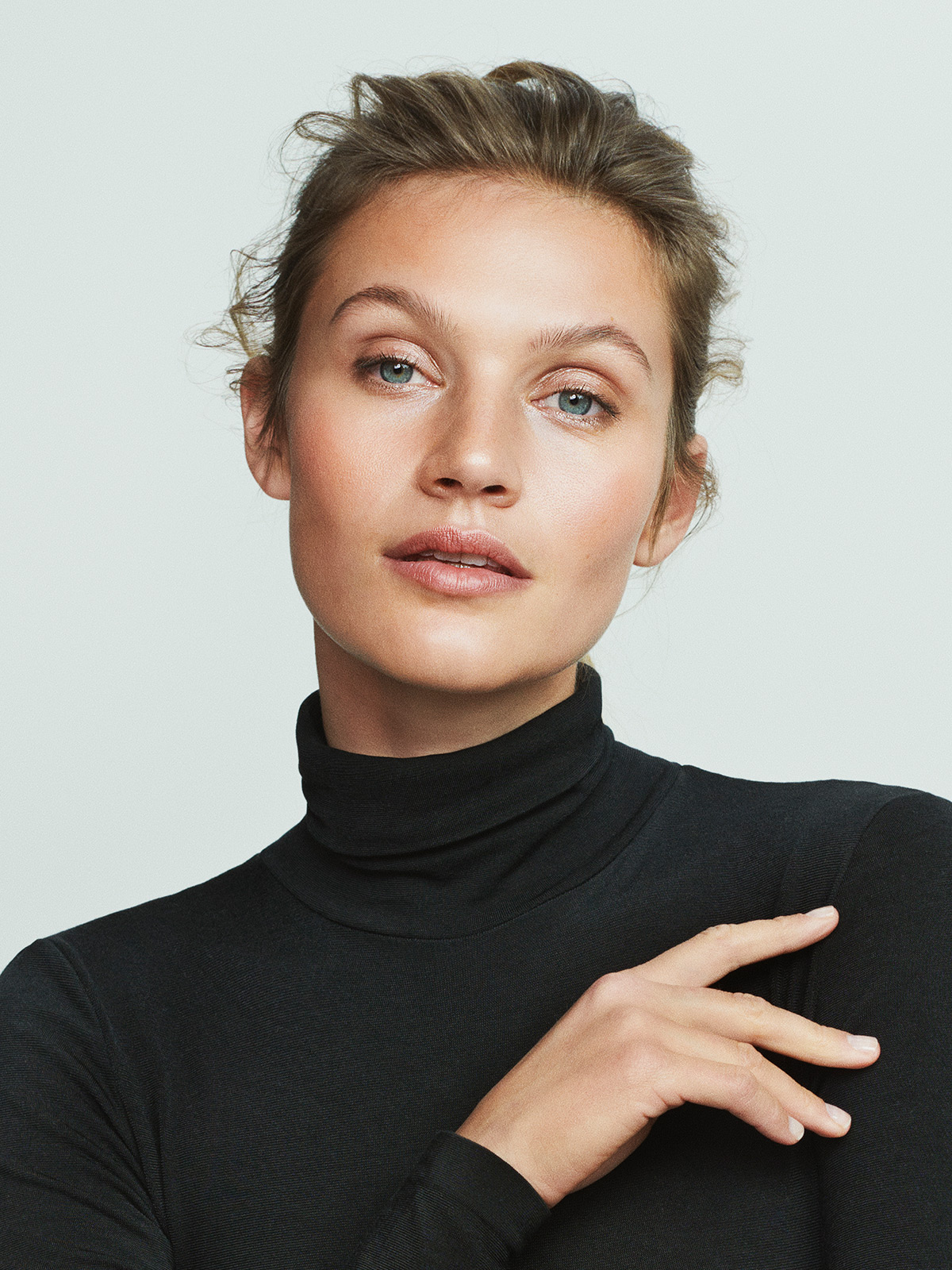 FACE
---
---
We have specifically designed the Tromborg professional makeup range so that you can achieve a gorgeous everyday look in just five minutes. A few simple steps guide you through applying a manageable everyday makeup that looks natural and incredibly beautiful.
Start by moisturizing your skin with Anti-Aging Glow Serum. It keeps your skin in peak condition while also being a good primer before applying Mineral Foundation. It minimizes pores, adds moisture and boosts elasticity. It is always important to establish a good base before applying makeup. Use Mineral Foundation on your whole face or only where needed. The beauty of Tromborg's Mineral Foundation is that it doesn't cover your face like a mask, but rather blends into your skin and looks completely natural.
Use Brow Fix (Clear or Brown) to comb your eyebrows. Brow Fix is the perfect sculptor and ensures that your brows stay in perfect shape all day long. Dust on Blush Vintage – "cheeks in a tin" – from the middle of your ear to your mouth. It creates the most beautiful shadow effect and is amazing for shaping your face. Sweep Blush Peach onto the apples of your cheeks to add a touch of colour and freshness. Super natural looking and perfect combined with Blush Vintage.
Then apply Shadow Velvet on the entire eyelid below the crease using Brush #2 – a vegan brush that is perfectly shaped to prevent under-eye fallout. Velvet is a universal eyeshadow that suits everyone and brings out your natural eye colour – a must-have. Also apply Shadow Velvet under your eyes to highlight and intensify them. Dab a little Baked Mineral Highlight over your eyeshadow (with your fingers) to fix it so that it lasts all day. To create extra shine, light and shadow, you can also apply Baked Mineral Highlight on the highest points of your face – at the top of your cheekbones and just below your eyebrows.
Then lightly coat your eyelashes with Mascara Black. Apply a little to the midsection, but focus on the outer lashes – this opens your eyes and creates the loveliest almond-shaped eyes. rækker opad og skaber de flotteste mandelformede øjne.
Apply lip Cure to your lips for optimal moisture – say goodbye to dry lips forever! Lip Cure serves as the perfect base under lipstick or gloss. Finish your look with a natural lipstick or one of our magical Lip Cutes.
Following these simple steps will make you look beautiful in no time – an everyday makeup routine without the hassle – easy and natural.