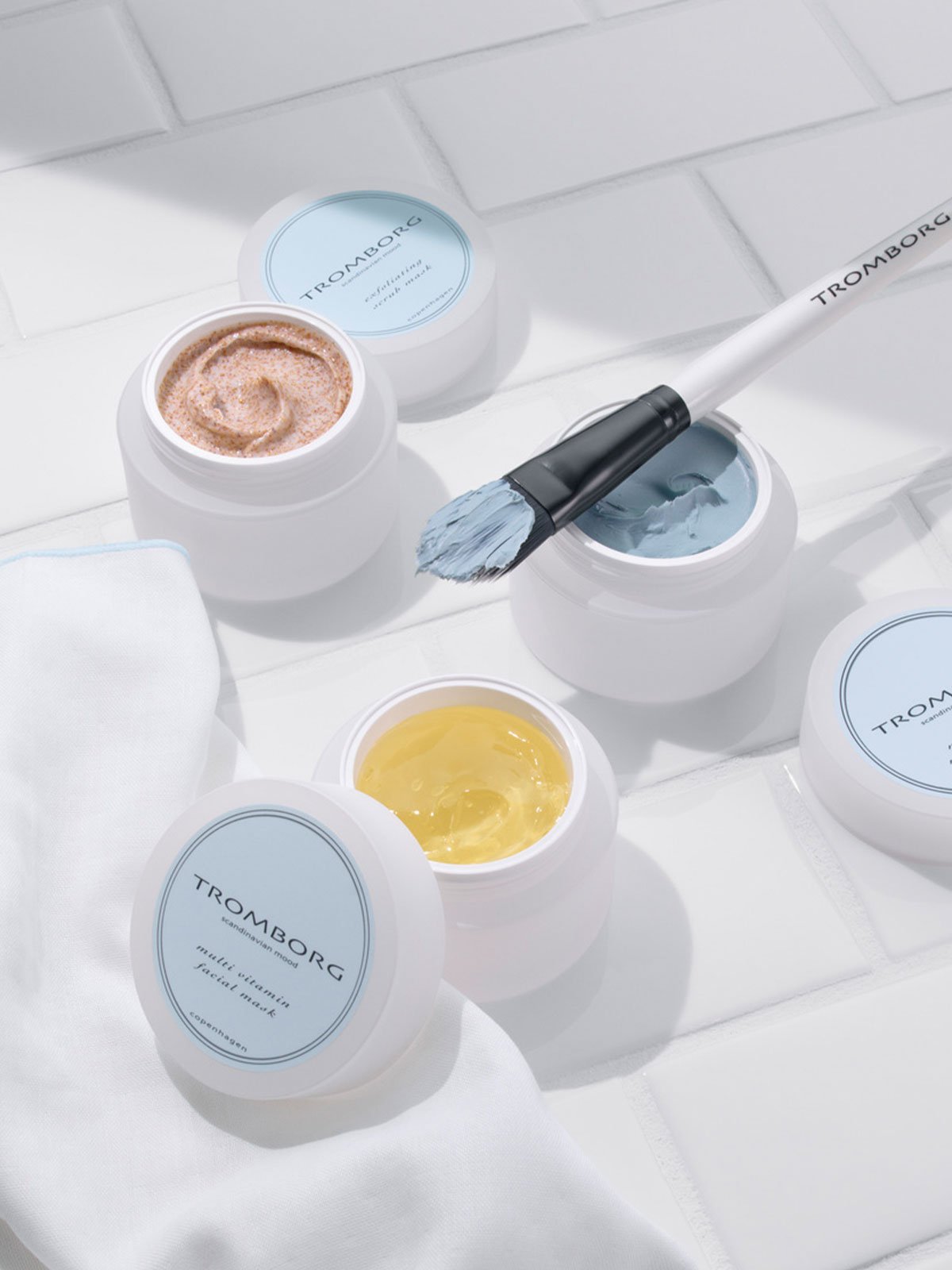 FACE MASK
---
---
INNOVATIVE MASKS
Whatever your skin type, your face will benefit from regular treatments in the form of a mask that provides moisture, deeply cleanses or gently exfoliates. A mask gives you radiant and deeply moisturized skin and is excellent for a home-spa treatment and self-pampering.
Use your preferred mask as needed – typically 2-3 times during the week. If you have sensitive skin, it's important to be careful with peeling and enzyme masks. With these masks, you can put them on as a mask without massaging the kernels into your skin. Always cleanse your skin, so it's free of makeup and pollutants before putting on your mask.
SCANDINAVIAN MOOD
With Tromborg's three Scandinavian Mood masks, you get optimum moisture and nourishment for your skin and an exclusive complement to your daily skincare routine that promotes self-pampering and well-being. You can choose from 3 masks: Mud Mask Mineral-Rich which is regulating and balancing, Multi Vitamin Facial Mask for in-depth cleansing and moisture or Exfoliating Scrub Mask for a deep-cleansing peel. These masks are also ideal to use for multi-masking, in which you use all 3 masks right after one another.
TREATMENT
In our Treatment line, we have two problem-solving masks that benefit both normal skin and problematic skin. Detox Facial Mask is bursting with nourishing and powerful minerals that makes your skin look refreshed and improves its texture. Works equally well for normal, oily and acne-prone skin of all ages.
Tromborg's Enzyme Peeling Facial Mask is an easy way to spoil and de-stress your skin. The enzyme peeling mask cleanses your skin quickly, easily and naturally – removing dead skin cells and preventing dirt and other irritants from damaging your skin. Natural enzyme peeling leaves your skin looking smooth, refreshed and glowing.
BEAUTY OF NORTH
If you want an experience beyond the ordinary, you should choose the mask from our exclusive and one-of-a-kind Beauty of North line. In Enrichment Leave On Mask, you get a whole new dimension of plant extracts, growing in their natural habitats, combined with an unprecedented number of potent and innovative ingredients. A breakthrough in skincare has resulted in this cleansing, exfoliating and ultra-moisturizing all-in-one mask.