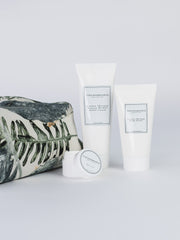 Plant Power Beauty Bag
Von Linné X Tromborg´s new beautiful and sustainable Plant Power Beauty Bag contains following Tromborg Tromborg must-haves: Lip Cure, Aroma Therapy Deluxe Herbal Hand Cream 75 ML, Aroma Therapy Body Lotion 50 ML.
1-4 days delivery.
Free Tromborg Treats from EUR 69.00
Von Linné x Tromborg Plant Power Beauty Bag is handmade in Denmark by Von Linné and has a single edition motive, which is an original imprint based on the wild Danish nature.